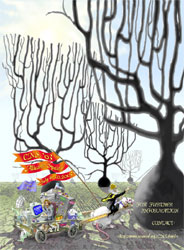 CNS*2003
The Annual Computational Neuroscience Meeting
July 5-9, 2003, Alicante, Spain
CNS*2003 Info about flights to Alicante
We cannot help attendees in buying their tickets.
If one wants to take advantage of the cheap fares in charter flights there is urgency in booking flights. July is a busy month in Alicante's airport and there are lots of direct flights from most northern European cities, either via regular airlines (SAS, Crossair, Easyjet, British Airways, Iberia, Spanair, Aer Lingus, Lufthansa, Air Algerie) or in charter flights. Some links to charter companies and low-cost airlines operating in Alicante:
From UK :
From Germany :
From Scandinavia :
From Belgium :
From Holland :
From Luxemburg :
Transportation within Spain
Alternatively, you can fly to another Spanish city (typically Madrid and Barcelona will have good fares, but also Valencia might be worth checking), and then travel over land to Alicante. From Madrid, Barcelona and Valencia the train is a very comfortable and reasonably fast solution (4, 4.5 and 1.5 hours, respectively). Internal flights are usually expensive unless you take advantage of early booking offers or deals for transatlantic travelers with Iberia.
For rental car information, please contact the travel agency Viajes Hispania at alozano@vhispania.es
Attractions for an extended stay
Some ideas for those considering a more extended stay in Spain: