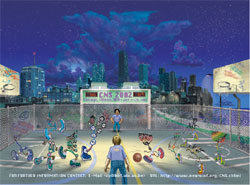 CNS*2002
The Annual Computational Neuroscience Meeting
July 21-25 2002, Chicago, Illinois, USA
Proceedings CNS*02
All authors should either have received an e-mail with final instructions for submission of their papers for the proceedings book and Neurocomputing journal or why their papers are not selected for the proceedings. Electronic paper submission should be done no later than October 20, 2002. Please contact the editor if you have questions.
View Program Neural Coding Workshop
View papers submitted to CNS*02 on Computer Science Preprint Server (and search for "cns")
CNS 2002 will be held in Chicago from Sunday, July 21, 2002 to Thursday, July 25 in the Congress Plaza Hotel & Convention Center. Plenary oral sessions and evening poster sessions will be held from Sunday to Wednesday. Thursday will be a full day of workshops. Conference dinner will be Wednesday night, followed by the rock-n-roll jam session.
Program chair: Erik De Schutter (University of Antwerp, Belgium)
Local organizer: Philip Ulinski (University of Chicago, USA)
Workshop organizer: Maneesh Sahani (Gatsby Computational Neuroscience Unit, UK)
Government Liaison: Dennis Glanzman (NIMH/NIH, USA)
Program Committee:
Upinder Bhalla (National Centre for Biological Sciences, India)
Avrama Blackwell (George Mason University, USA)
Victoria Booth (New Jersey Institute of Technology, USA)
Alain Destexhe (CNRS Gif-sur-Yvette, France)
John Hertz (Nordita, Denmark)
David Horn (University of Tel Aviv, Israel)
Barry Richmond (NIMH, USA)
Steven Schiff (George Mason University, USA)
Todd Troyer (University of Maryland, USA)
Information and administration:
)
Invited speakers:
Ad Aertsen (Albert-Ludwigs-University, Germany)
Leah Keshet (University British Columbia, Canada)
Alex Thomson (University College London, UK)